Global Congress on Integrated Coastal Management :
Lessons Learned to Address New Challenges
30 October - 03 November 2013
Grand Yazici Club Turban Hotel (*****), Marmaris, Turkey
Please click on the publication for downloading the list of contents file in pdf.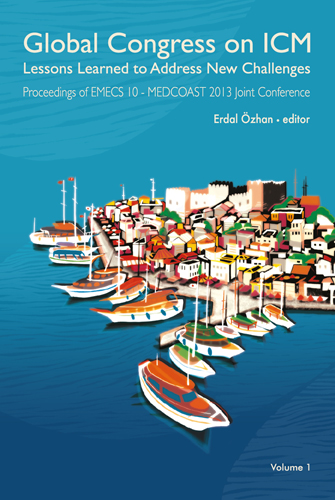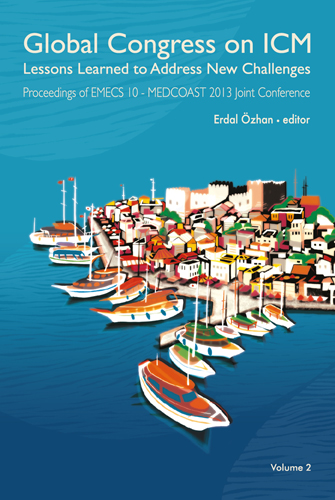 REFLECTIONS AFTER EMECS 10 – MEDCOAST 2013 JOINT CONFERENCE
"I must confess that MEDCOAST is the most important meeting in the parathetis basin and this foundation can lead us to improve our ability and critical thinking on ICZM. now a day along the Caspian Sea coastal area ecosystem sustainability protection and pollution hazard management are the important objectives for marginal countries policy."
(Dr. Homayoun Khoshravan, Iran)
"I found it to be a highly informative and useful conference, with good participation and a high quality of presenters. It was certainly a good introduction to Medcoast for me! Thank you and all the organisers of the conference and I sincerely hope that I will be able to attend the next one in France"
(Dr. Kate Pike, U.K.)
"It was a pleasure to take part of the meeting: for sure, I was not the only one enriched by the knowledge presented by the participants, many of them source of inspiration for future studies.
I also thank you very much for your personal kindness, and take the chance to congratulate all the team, that worked hard and very efficiently."
(Prof. Luci Hidalgo Nunes, Brazil)
"It was a pleasure for me to join this Global Conference. Thank you again for all your efforts to produce this Conference."
(Dr. Frank van der Meulen, The Netherlands)
"Thank you the organizers for the wonderful hospitality and grand venue. It as a very nice experience. Now I am more equipped to give awareness to my coastal friends. It has been splendid time in Marmaris. I appreciate Prof Ozran , medcost and global congress for the arrangements."
(Dr. Rosamma Stephen, India)
"I would like to thank you, the organizers, for having a fruitful and joyful Congress in Marmaris! Everything were excellent."
(Dr P. Koulouri, Greece)
"Thanks for all your efforts during the MedCoast13 Congress it was really amazing and your organization was magnificent."
(Dr. Hossam Samir Ibrahim, Egypt)
"I do appreciate your successful efforts in making the MedCoast congress interesting, productive, and very comfortable."
(Dr. Sergey Konovalov, Ukraine)
"First of all I'd like to thank you for such a wonderful time I had in Marmaris during the meeting, it was not only about interesting and challenging sessions but also about having an opportunity to meet great people from so many countries, from so many nationalities, with so diverse backgrounds.. The Congress was beneficial to me in all senses! "
(Oxana Sytnik, Italy)
"It was an excellent congress. I have learned a lot. Thank you very much for your kind support and hospitality."
(Dr. Abiar Rahman, Bangladesh)
"Thanks very much for your excellent Medcoast Conference."
(Dr. Mohamad Morad, Egypt)
"Marmaris toplantısında yaklaşık 20 farklı konuda sözlü sunum ve poster izleme şansım oldu, bilgi birikimime yaptığınız çok özel katkı, değerli sosyal iletişim atmosferi ve sağladığınız diğer imkanlar için içtenlikle teşekkür ederim."
(Dr. Şule Güneş, Turkey)